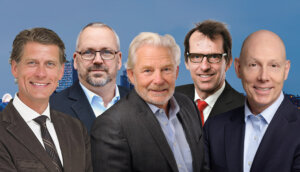 Left to right: Christian Dietrich, Sascha Stockfisch, Dr. Dietmar Kamp, Jan-Ullrich Kath, Max Eschweiler
F&P AG is pleased to announce the addition of five new Associate Partners at the end of 2022. We welcome Sascha Stockfisch, Max Eschweiler, Christian Dietrich, Dietmar Kamp and Jan-Ullrich Kath to our team of experts!
These experts enable us to expand our expertise in the areas of finance, IT, business software, SAP, sales and marketing. Find out more about the expertise of the new F&P managers below.
Dipl. Oek. Sascha Stockfisch
Dipl. Oek. Sascha Stockfisch is an expert in finance, controlling and due diligence. With over 25 years of professional experience in accounting and controlling, finance expert Sascha Stockfisch has in-depth experience and extensive contacts in various industries. After a career in the corporate accounting department of a petroleum company in Hamburg, Mr. Stockfisch has been an independent consultant and entrepreneur since 2001. He has held positions as investment controller, business analyst, department and division manager in various industries.
Dipl.-Wirt.-Ing. Max Eschweiler
Dipl.-Wirt.-Ing. Max Eschweiler is an IT, software and digitalization executive. Mr. Eschweiler's industry focus is on IT, retail, logistics and services. For 25 years, he has supported organizations and service providers in optimally aligning processes, structures and technologies with the business environment.
Dr. Dietmar Kamp
Dr. Dietmar Kamp is a specialist for SAP implementations and projects. Dr. Kamp is a long-time expert and user of SAP software. His customers particularly value his specialist knowledge of finance and accounting, controlling and planning and reporting.
Christian Dietrich
Christian Dietrich is an expert in sales, sales management, corporate strategy as well as corporate development, turnaround and performance management, and general management. Mr. Dietrich was sole managing director of several subsidiaries in matrix structures and gained extensive experience in improving performance in underdeveloped units and market segments.
Jan-Ullrich-Kath
Jan-Ullrich-Kath is an expert in SAP projects and IT systems. Mr. Kath has many years of SAP knowledge in the area of logistics in the modules for sales and procurement processes. He has been involved in the consolidation of system landscapes and the optimization of value chains in various projects and different countries and has worked as a process expert.