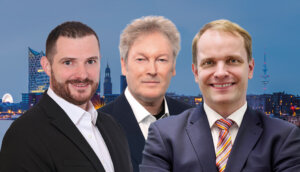 At the beginning of the year, F&P Executive Solutions is pleased to announce the addition of three new Associate Partners. We welcome Tobias Reichert, Maarten Drop and Dr. Frederik Kolster to our team of experts!
With our new experts we strengthen our expertise in the areas of Supply Chain Management, Business Development and HealthCare & Life Science. Learn more about the expertise of the new F&P managers below.
M.Sc. Tobias Reichert
Tobias Reichert is an expert in restructuring, reorganization and performance improvement and assurance in the field of purchasing and supply chain. Mr. Reichert has worked very successfully as a purchasing and operations manager for leading companies in the hydraulics and pump industry. His field of activity included not only German but also foreign locations with purchasing volumes of up to 85 M€ under his own responsibility.
Maarten Drop
Maarten Drop's deep expertise is in business development and innovation. Maarten Drop draws on know-how from 25 years in the European telecom industry and has a deep understanding of business development and innovation. Maarten distinguishes himself through high cultural intelligence and his "growth mindset". He has a proven track record in business development and is creative and skilled in business innovation.
Dr. Frederik Kolster 
Dr. Frederik Kolster is your Healthcare & Life Science expert for business transformation and marketing innovations. Challenges are Dr. Kolster's specialty, especially when standard solutions no longer work. His areas of expertise include taking on a leadership role with a focus on turnaround and implementation as a general manager, as a plant manager and as a global project or program manager.